Home | Creators @home | Educarers overview | Kerry Mitchell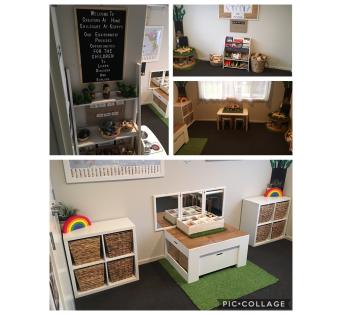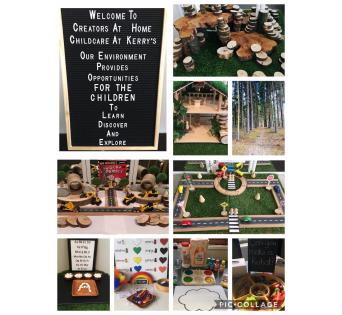 Kerry Mitchell
Educarer
Rolleston, Canterbury
Hi, my name is Kerry.
I live with my husband Lee and our Jack Russell's Rilee and Max. We live in our own home in a quiet cul-de-sac in Rolleston.
I am an Educarer for Creators at Home - Canterbury, providing quality home-based childcare.
I have been providing home based childcare since 2009 and have my National Certificates in Early Childhood Education and Care - Level 3 and Early Childhood Education - Level 4.
I offer a safe, comfortable, loving environment for your child/ren to build a secure attachment. I believe in building a teacher/child relationship from love and trust which is so important in their early childhood years.
My philosophy is about getting back to basics and reducing the amount of 'plastic' within our environment, by using more natural and open ended resources which is inline with the Reggio Emilia Approach.
Play based learning and nature based learning are both very important in our setting, giving children the opportunity to explore nature and learn about the world around us.
Our playroom is filled with plenty of toys and resources to capture the children's interests and gives them an environment where they are able to learn, discover and explore. I believe that children deserve the best possible learning experiences and environments so they can be all they can be.
Through my own ideas, research and children's interests, I am inspired to create home made resources rather than having what everyone else has got, which makes what I offer more unique in having things that are personalised to our own environment.
Our art and craft cupboard is filled with everything the children need to encourage creativity through different art experiences. I enjoy seeing what the children can create using their own creativity and imaginations!
We have a child friendly outdoor area to promote active play which includes a fort and trampoline as well as a wide range of outdoor toys and equipment.
Children have a voice and it's important to promote language in our setting and give them the opportunity to see and hear their voice being heard through conversations, learning experiences and provocations.
We incorporate New Zealand Māori culture in our setting and give children the opportunity to learn Te Reo Māori through our daily karakia (blessing), te kupu o te wiki (word of the week) and using simple Māori words in our daily routine.
I use Educa to document each child's learning journey through learning stories which are linked to Te Whariki (NZ Early Childhood Curriculum) and have daily communication books, so families can see what their child's day is like.
Each child has their own learning journal which is shared with their own family regularly. Families are able to contribute to their child/ren's learning journey through a family story or similar contribution which is something each child can look back on as they grow.
We have our own visiting teacher who visits each child every month and she also contributes to the children's learning journals.
We enjoy getting out into our local community when possible and giving children the opportunity to experience real life scenarios (library, playgroup, parks, supermarket etc).
Winz childcare subsidies are able to be accessed - 20 ECE hours for 3-5 year olds.
If you require any more information, please feel free to contact me - I am happy to answer any questions you may have.
You can also check us out on Facebook: https://www.facebook.com/creatorsathomechildcareatkerrys/
As of January 2020 - I have part time space available.
 
Learning is their journey.Let them navigate.Push them to explore.Watch them discover.Encourage their questions.Allow them to struggle.Support their thinking.Let them fly.
Krissy Venosdale
Activities I provide
Community based Outings
Play dates with other educarers
Story time at library
Willowbank Wildlife Reserve
| Day | Hours | Spaces |
| --- | --- | --- |
| Monday | 7.00 AM - 5.00 PM | 0 |
| Tuesday | 7.00 AM - 5.00 PM | 0 |
| Wednesday | 7.00 AM - 5.00 PM | 0 |
| Thursday | 7.00 AM - 5.00 PM | 0 |
| Friday | 7.00 AM - 5.00 PM | 0 |
| Holiday | | 0 |
Office details
Region
Canterbury
Office
Rolleston,
Phone
0800 273 286
Email

referrals (at) creators.org.nz