Home | Creators @home | Educarers overview | Renee Miller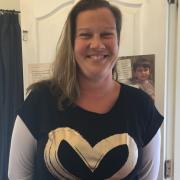 Renee Miller
Educarer
Taradale, Napier, Hawkes Bay
Hi I'm Renee
I live in the sunny Hawke's Bay with husband and 3 children. We love to spend time together on the weekends, exploring our region. My passions are, along with my family, supporting my children with their sporting endeavours, taekwondo , spending time with friends and reading.
I am a homebased educator in Taradale. I have been opening my home up to care for and teach children for the past 11 years and really enjoy being able to work from home, around my own family and still support children to grow and learn in a homebased environment.
I aim to provide a home away from home for your child, where they feel safe, loved and nurtured. Where they will thrive in a warm and caring environment with plenty of quality daily learning opportunities for children of all ages.
I have a great indoor and outdoor space with plenty of resources for quality experiences in a homebased setting. With a language rich environment and plenty of opportunities to visit play groups, story times, music and movement, plus excursions outside of the home on a regular basis to build on social and physical skills. I will support your child to develop naturally through their own interests and learning stages.

Office details
Region
Hawkes Bay
Office
Taradale, Napier
Phone
0800 273 286
Email

referrals (at) creators.org.nz